Disk cloning software can help us quickly and efficiently transfer all the contents of one disk to another disk. As we store more and more data on disks, we need to clone disks more often. Next, this article summarizes several common situations that require disk cloning software to clone hard disks for you.
Replace a small disk to a large one: If you are running out of disk space and causing your computer to run slowly or freeze, you need to replace the disk you are currently using with a larger-capacity disk.
Transfer data fast: If you need to transfer all the data from one hard disk to another disk quickly, then you also need free disk cloning software to help you achieve the goal.
Improve performance: If you want to clone a hard drive to SSD to improve performance, then disk cloning software can also help you very well.
The Best Hard Drive Cloning Software
Knowing the common situations where you need to clone a disk, you can continue reading this article to learn about the best free disk cloning software, AOMEI Backupper Standard. It can easily help you to transfer all data from source disk to destination disk. It's also freeware tailored for Windows 11/10/8.1/8/7/Vista/XP, so no matter what Windows OS you're using, it's supported. It also has the following advantages.
Intelligent Clone: By default, this software will only clone used sectors on the source disk, so you can clone a large disk to a small one if you want.
Sector By Sector Clone: If your target disk has the same capacity as the source disk or is larger than the source disk, you can use this function to clone all sectors on the source disk, including hidden sectors.
VSS Technology: This technology allows the clone task to run in the background, so you can use your computer normally during this time.
Different Types of Disk: In addition to hard drives, it also supports cloning various disks, such as SSDs, USB drives, cloud drives, etc. For example, you can easily copy SSD to new SSD in Windows 10.
Note: The Standard Edition is only available for data disk clones. To clone a disk with an operating system, upgrade to Professional Edition or higher.
The Stepwise Guide for Cloning Hard Drive
Before you can start cloning your hard drive, you need to complete some preparations first. Once done, follow the graphic tutorial below to get started. This software has a very concise operation page and easy to understand steps. Even if you are a novice, you can easily complete the whole cloning process.
Download and install this software to your computer.
Backup files to external hard drive because the cloning process will erase all data from the target disk.
Connect the target disk to your computer and make sure that your computer recognizes it.
Step 1. Open AOMEI Backupper Standard, then you can click Clone > Disk Clone.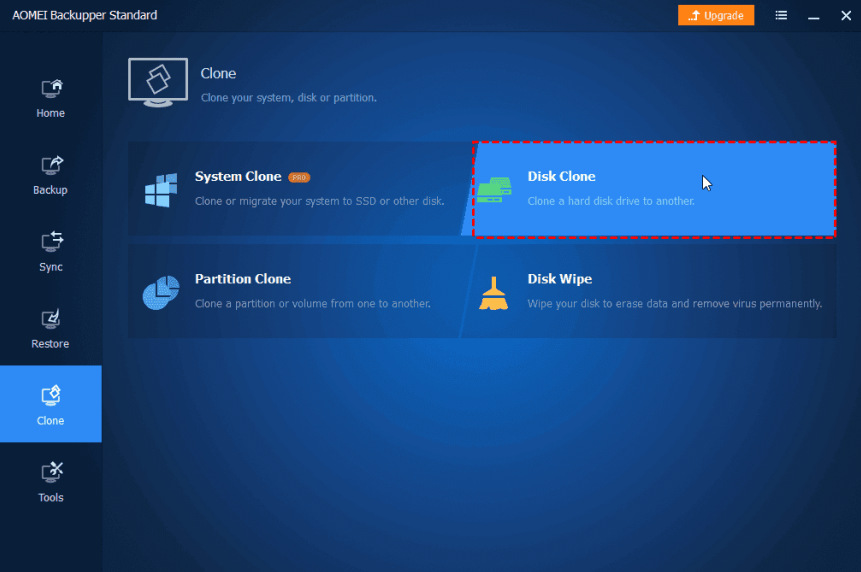 Step 2. Select the hard drive as the source disk and choose a disk as the destination disk.
Step 3. Confirm all your operations and click Start Clone to clone hard drive with the free hard drive cloning software.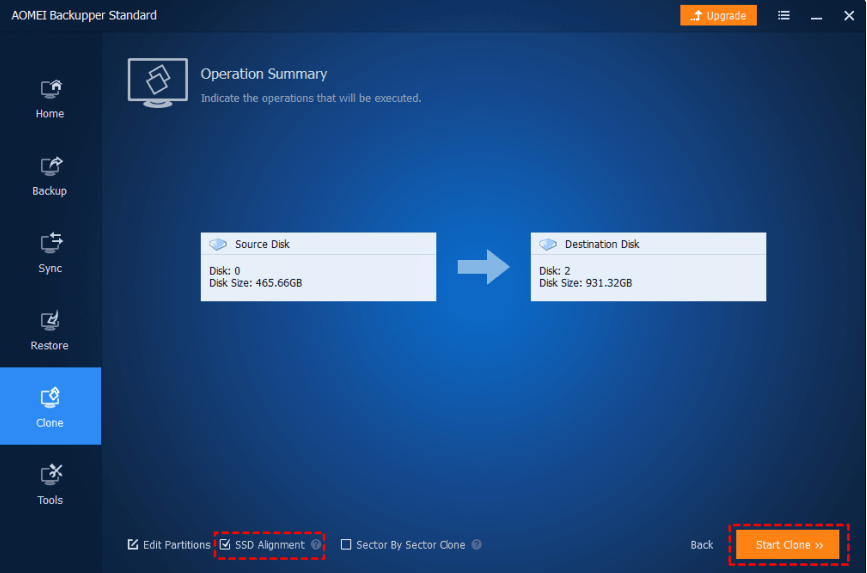 Notes:
SSD Alignment: If your target disk is an SSD, remember to tick SSD Alignment checkbox for accelerating the reading and writing speed of the target SSD.
Edit Partitions: You can change the partition size automatically or manually. It is supported by AOMEI Backupper Professional and higher editions.
Summary
This article describes the situations in which we need to use disk cloning software. The best free disk cloning software – AOMEI Backupper Standard can help you transfer data from the source disk to the target disk for free. Whether you want to clone a small disk to a big one or a big one to a small one, it will meet your needs. It also supports many types of disks and Windows operating systems.
Besides cloning, it is also a professional and free backup software. It provides system backup, partition backup, file backup and disk backup to protect your data in all aspects. It can easily move program files from C to D if you need. You can download this freeware and explore it for more useful features.