In decades, you might find that the cloud storage has become more and more popular in digital data age, why cloud storage becomes the trends for personal use and business use? Because cloud storage can make up the shortcomings of the local storage.
Generally speaking, the local backup created by free backup software suffered from the pain, like system crashes, disk failure, software corruption, and more. Your data will be gone once these situations occur, and the data that is difficult to recover or has problems with the recovered data, and it's not 100 percent guarantee to recover all your data. Therefore, more and more people are willing to store critical data to cloud storage according to the 3-2-1 backup rule.
Once you have cloud storage for data storage, you have to use the best cloud backup service for you too to meet the best demands for data protection.
Best Cloud Backup Service – CBackup
So here comes the best free cloud backup service – CBackup, which can help you perform professional cloud backup.
Why it is the best free cloud backup service on the market, there are some reasons:
CBackup offers full backup and incremental backup for you, full backup can help you backup all the files that you want to backup, and restore them quickly, the incremental backup will backup only the changed part since the last full or incremental backup, saving time and effort as well as the cloud storage.
CBackup supports mainstream clouds, like Google Drive, Dropbox, OneDrive, and other clouds, you can easily sync and backup files to Google Drive, Dropbox, or OneDrive directly, not like other cloud backup service, only provides the private cloud only, can't integrate with other clouds.
Except for PC to cloud backup, CBackup also provides you cloud to cloud backup, and you could transfer everything from one cloud to another directly without downloading and reuploading files manually.
There is no file size limitations for uploading, and you could backup any files and folders to online cloud storage.
Provides scheduler for you to backup files to cloud on regular basis, like daily, weekly, monthly or at one time only, set it up and forget it, and it will run the backup task on the time that you specified. No worry about the data loss due to forgetting to set up a backup.
And you could enable email notification to get email alert once the backup is finished success or failed and do the following things needed.
File filter is capable of excluding or including the file types as you like, such as exclude the temporary files while backing up.
How to Use Best Cloud Backup Service with Simple Steps?
To make it clear of the cloud backup, here we will show you how to use the best online backup service – CBackup easily. And we will take backup files to Google Drive for example.
Step 1. Please install the online backup software CBackup on your computer, then sign up for a new CBackup account, and then log in.
Step 2. Click the My Storage icon on the left panel, then select Google Drive and hit Authorize Now, follow the guide to finish the authorization.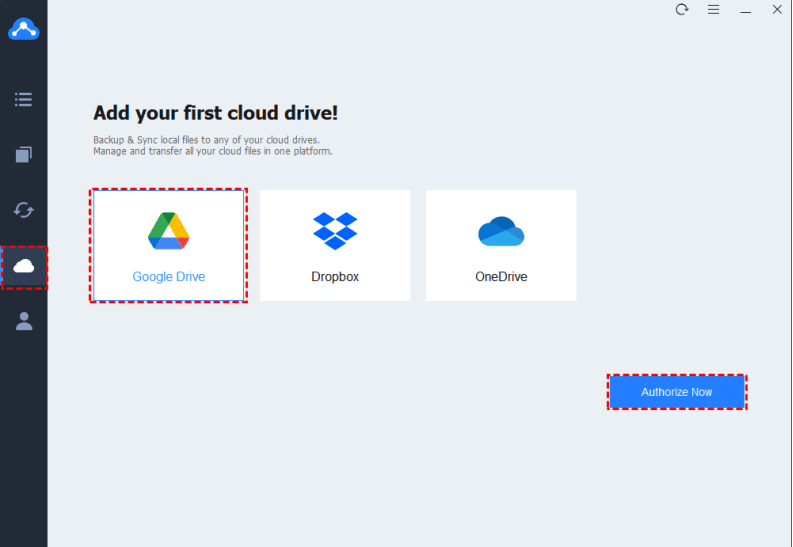 Step 3. Go to Backup tab, then choose Backup PC to Public Cloud under the PC to Cloud Backup section.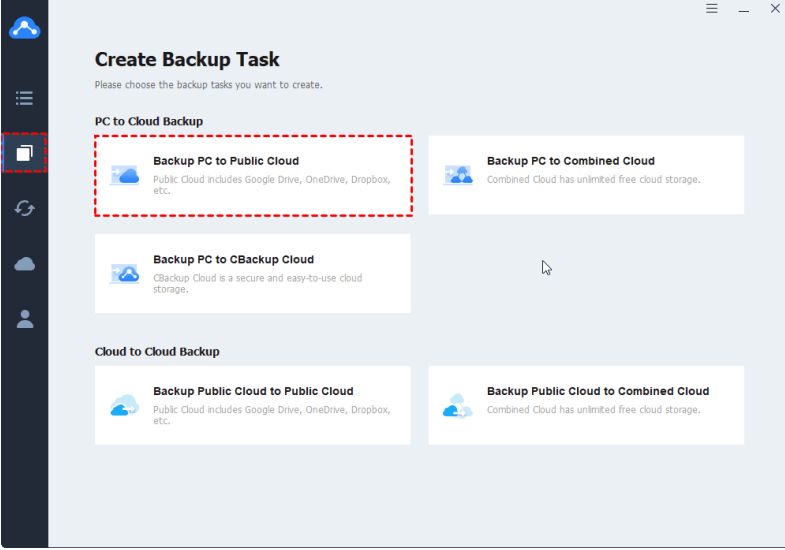 Step 4. Choose the computer files that you want to backup, then choose Google Drive as the backup destination.
Step 5. (Optional) Hit Settings on the bottom left to set up scheduler, email notification and file filter, and smart your backup task.
Step 5. Press the Start Backup button to backup files to Google Drive automatically and quickly.
Now you have noticed that it's every easy for you to perform cloud backup for PC no matter you are for personal use or for small business use. You could have unlimited cloud backup and get unlimited backup versions, and easily restore the version you like.
The End
CBackup not only integrated with the public cloud drives but also provides you its own cloud server, named CBackup Cloud, and you could get more cloud storage space and protect your data more secure, because it use the 256-bit AES encryption and OAuth Authorization system to protect your personal information.